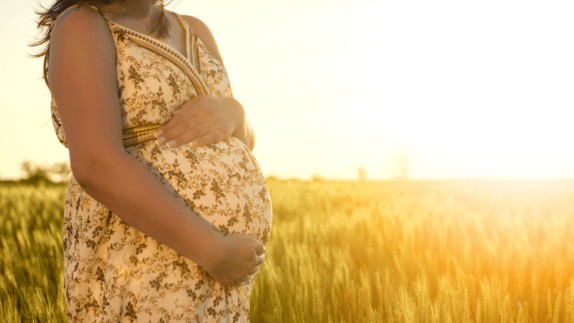 Written by Linda Hollenberg
Before becoming a mother, I had no idea that I was Autistic.
As I think is the case with many parents, it was only when I realised that my daughter is Autistic that it occurred to me that Autism explains so much about my life experiences too. Yet, from the very beginning of my pregnancy, motherhood presented me with a series of sensory and other challenges that exceeded my capacities and exhausted my coping strategies.
In this piece, I wish to share some of my experience as a mother and a doula as well as some practical tips to help overcome some of the challenges during pregnancy, birth and postpartum.
Before I became pregnant with my daughter, I had only heard of hyperemesis gravidarum (HG) – or extreme morning sickness – in media reports about the Duchess of Cambridge. Just a couple of weeks after my first positive pregnancy test, the nausea and vomiting took over my life. The whole world felt as if it was moving and the sickness was unrelenting.
My sense of smell became so heightened that I couldn't tolerate the smell of my own body, let alone my husband's, and I certainly couldn't go into the kitchen, let alone tolerate food. I was confined to lying as still as possible in the darkness of my bedroom. I couldn't even look at a screen or book to entertain myself. I was anxious and depressed.
In hindsight, through the lens of now understanding that I am Autistic, I realise that sensory overwhelm had a significant role in almost all of my symptoms. My vestibular sense told me I was constantly moving, my sense of smell told me I was surrounded by sickening odours, my sense of sight told me that light and certain colours were making me ill, and my interoceptive sense was having trouble coping with dehydration and the influx of different hormones. I recently read a study* into the experiences of Autistic mothers and, while it was a very small sample, over 80 per cent of them experienced HG. Although I didn't experience it myself, some Autistic mothers also find the sensation of their baby moving to be very overwhelming.
Despite reading ALL the books and doing ALL the childbirth preparation, hypnobirthing and active birth courses during my pregnancy (can you tell that motherhood is my special interest?), when it came time to give birth, everything I knew went out the window.
When I arrived at the birthing centre in labour, I essentially went into shutdown. My pain, which had been manageable until that point, intensified to an unbearable level and my ability to communicate deserted me. All I could do was to lie in a foetal position and moan.
In early labour at home, I had been using heat packs on my back, but the birthing centre wouldn't let my husband warm them in the microwave. The midwife kept encouraging me to try different positions, but I didn't want to move. I tried the birthing pool, but immediately became hot and claustrophobic and needed to get out. I tried the gas, but I couldn't follow the midwife's instructions about how to breathe through the valve and it did nothing. I ended up having an epidural, which I had wanted to avoid due to being terrified of needles, but in the circumstances I didn't even feel the needle and it made my birth experience so much more pleasant!
In postpartum, I was hypersensitive to my daughter's cries, touched-out, in pain and exhausted. I cried a lot and my mood was generally quite low. I also experienced a decline in executive functioning, which made it very difficult to keep on top of household tasks and even pack my bag to leave the house.
I found attending parents' group to be extremely overwhelming with the noise of all the babies (mine in particular was always unsettled), the busy environment and the social expectations. Most of the time I was in a very vague headspace, where I wasn't fully present and unable to engage with the other mums. I actually felt like this for many years whenever I was expected to split my attention between my daughter and socialising.
After having my daughter, I trained as a perinatal yoga and mindfulness teacher and postnatal doula because I wanted to support other mothers through their motherhood journeys.
Since realising that I am Autistic and studying Reframing Autism's Certificate in Autistic Wellbeing, I am working towards exclusively nurturing Autistic and otherwise neurodivergent mothers.
Writing from my perspective as both an Autistic mother and doula, here are some practical tips to help overcome some of the challenges during pregnancy, birth and postpartum.
During pregnancy
Carefully consider your sensory environment and reduce your triggers as much as possible. Perhaps you need to sleep on your own, bathe more regularly, use different personal care products, eat very specific foods, or keep the curtains drawn. (Hilariously, I made my husband redecorate our bedroom because I was convinced the wall colour was making me ill!)
Do everything you can to avoid dehydration because this makes the vomiting worse, and then you cannot rehydrate – it's a vicious cycle. If I were to do it again, I would set alarms to remind myself to drink water regularly throughout the day and night. (Overnight you can become very dehydrated which may be why the sickness can be worse in the morning.)
Practise mindfulness. Observe the sensations throughout your body and connect them to your experience. Ground yourself in the present moment, acknowledge what you feel, be curious about what is causing that particular sensation and what might help you to feel better.
Seek help. Ask a trusted friend or family member, or employ someone, to bring you whatever food you can tolerate, to clean your house, to change your sheets, to care for and prepare meals for older children, and to drive you to appointments.
It might also be helpful to see a psychologist, counsellor or even talk to a fellow Autistic mother who understands your experience and can support you with feelings of loneliness and isolation.
During labour and birth
I would absolutely recommend hiring a birth doula (or bringing along a friend or family member) who understands your sensory experience and communication needs. A birth doula can support you to manage your pain, advocate to hospital staff on your behalf and relay information to you in a way that you are able to process. You will also have developed a relationship with your doula throughout your pregnancy so will likely feel safe with them. Your doula will also be able to support your partner, if you have one.
Take sensory comforts from home to create a soothing and comfortable space for yourself in the birthing room. Music, scents, pictures, candles, fidget toys, soft toys, cosy blankets, etc.
Educate yourself on the different possible interventions and outcomes, but don't be attached to any particular plan – very difficult, I know!
Ask for detailed information about all of the available pain management strategies, including the risks, benefits and instructions on how you might use them, where applicable. This will allow you to practise and prepare yourself beforehand, in case you become less receptive to information and instructions during labour.
Take the hospital tour so that you are aware of the different sensory environments and challenges beforehand. Even take photos so that you can continue to visualise what it might be like as you prepare at home.
Postpartum
Create a sensory basket that you can keep nearby throughout the day. Depending on your preferences, you might want to include noise-reducing earplugs, infant-safe essential oils, an eye mask, a wire head massager, a Bluetooth speaker and playlist of your favourite uplifting or calming music, a pair of cosy slippers, water, and your favourite one-handed snacks.
Sensory circuit breakers, such as sour lollies, ice cubes or going outdoors, can help to reset your nervous system when you become overwhelmed.
Allow yourself to feed your baby in whatever way works best for you. While there are many benefits to breastfeeding, if it is painful or causes you to experience sensory overwhelm, then give yourself permission to pump breastmilk, formula-feed or use a combination of both.
Create visual reminders, such as a checklist of items you need to pack in your nappy bag, to reduce your need to rely on your memory.
Limit the number of social commitments you take on and opt for one-to-one catch ups, rather than group events. Naptime is a great excuse to cut visits short when needed!
You may find that a structured mums and bubs yoga class or parents' circle in a calm environment meets your sensory and social needs more comfortably than the parents' groups run by your local child health service, which can be overwhelming, socially demanding and even competitive environments.
Ask for help. Your village of support may consist of family and friends or paid professionals. Either way, ensure that you have trusted people who you can rely on to support you. Caring for an infant is a 24/7 occupation, and you might find that you need more support than you think with tasks such as cooking, cleaning, grocery shopping, meeting your sensory needs and maintaining your emotional wellbeing.
Finally, motherhood – even without Autistic challenges – is a turbulent time. Add in sensory overwhelm, executive functioning challenges and trying to navigate a support system designed for the neuromajority, and it isn't surprising you're overloaded. Remember to treat yourself with kindness and self-compassion!
For more support in navigating pregnancy, childbirth and motherhood, you can follow Linda at Yoga Mindfulness Motherhood on Instagram or Facebook.
* 'A Qualitative Exploration into the Sensory Experiences of Autistic Mothers' by Moyna Talcer, Orla Duffy and Katy Pedlow