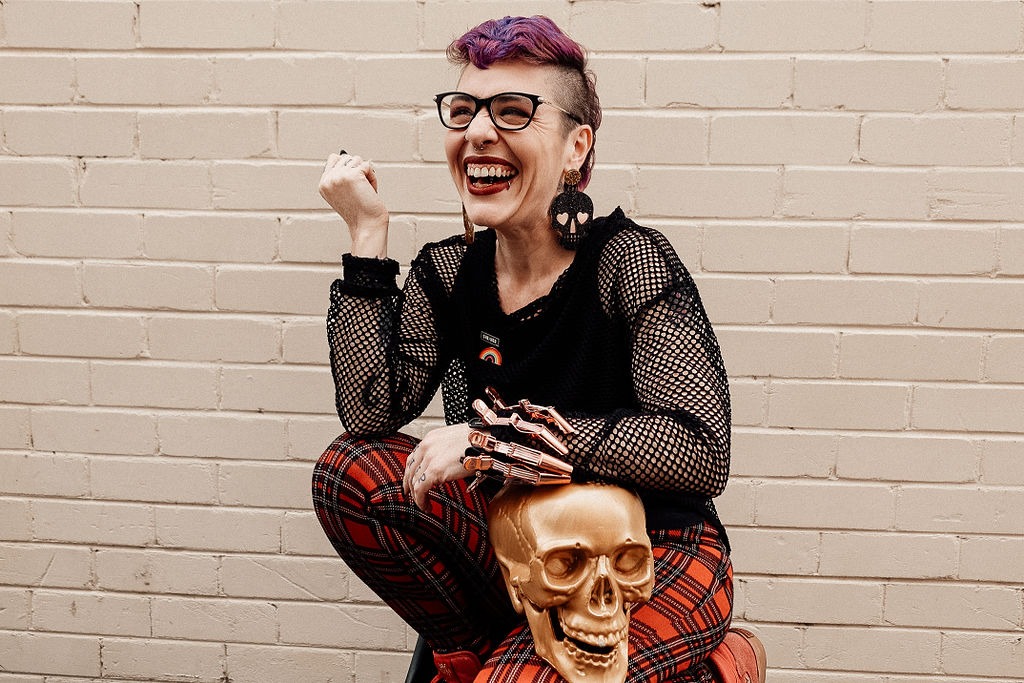 by Chloe Andrew
Outside of my family, I was always an odd child. A combination of quiet, obedient, overwhelming, overwhelmed, obnoxiously loud, occasionally explosive and often ostentatious.
I was the weird kid. Always standing out for the wrong reasons and desperately yearning to fit in.
I was always too. Too excited, too emotional, too rigid, too sensitive, too weird, too passionate, too intense, too eloquent. Just too much to ever fit in.
Naturally, my "too-ness", my inability to understand or fit in to a world that doesn't understand me and childhood trauma led to a diagnosis of anxiety and depression.
I came into my twenties ready to embrace my individuality and was hit with a new diagnosis – Bipolar. Ready to embrace any label that fit, I personified anything that was thrown at me with an "unusual" vigour – Bipolar housewife, then gay divorcee, corporate go-getter, roller derby girl, vintage pin-up and lastly hairdresser. I completely embodied whatever caught the glint of my eye at the time. Losing and reinventing myself over and over. Making life decisions around whatever my interest was. I went to Vegas for Rollercon, Sydney (and very nearly Amsterdam) for a hair show, spent thousands on photoshoots and training for being a vintage pin-up, baked every day as a housewife. Mum always told me Bipolar didn't fit.
The older I got, the more set in my ways I became. Phrases like "inflexible" appeared alongside "hardworking" in performance reviews. "It always has to be your way" became a frequent complaint in personal relationships and cries of "Just chill out a bit," were thrown at me from every corner of my life – more "too".
I tried to manage my "too-ness" with comforts – food and alcohol. When everything got a bit too much, when my world was out of control, I turned to what I knew would dull the edges of existence.
In my early thirties, I embraced a healthier lifestyle and gave up alcohol. Suddenly, there was nothing to dull the edges. I had to confront everything I experienced and everything I was feeling. My rigidness got more intense. Dealing with sensory overwhelm, and a world (and interactions) not designed for me, I used structure to contain the chaos – inside and out.
Over the past 18 months, 90 per cent of the women in my family have discovered they are Autistic. The more I learnt about how Autism can present in women and AFAB folk, the more I related. Suddenly, life made sense. My "normal" – my frame of reference for life, the universe and everything – is overwhelmingly Autistic. Our shared experience of the world – and life – is different to other people's because it is different.
Since embracing my Autistic identity, I've taken all my "too-ness" and reframed it. Too rigid became incredibly organised. Too sensitive became incredibly empathetic. Too weird became fiercely individual. Too intense became tenacious.
And I've harnessed this tenaciousness – and my life experience and passion – to open a salon called Studio Misfits in Perth. The salon is a safe, inclusive and affirming alternative to the often disempowering service I've witnessed neurodivergent and LGBTQIA+ folx experience in the hair and beauty industry. A space for people to discover themselves free of judgement.
At the salon, we meet clients where they are at. We use their affirmed name. We use their preferred pronouns. We remove gendered ideas of style and respect the client's identity and their experience. We understand that everyone experiences the world differently and ask them "What do you need?", and then honour that.
Approaching the individual from a place of radical acceptance – it's not rocket science. It's compassion.
We have also removed common stressors to create a sensory-friendly environment. We use quiet hairdryers, we have few seats in a large space, we have fewer staff, we provide a visually calm environment. We don't offer services which are overly odorous. We ask people before they come in if they have any sensory sensitivities, and what we can do to make them more comfortable. We offer sensory breaks and a no chat service, which can be requested in advance, to remove the pressure of small talk.
By understanding and considering what can cause people undue stress in hair and beauty salons, then removing these stressors and treating people as individuals, we've created an experience that is affirming, empowering, compassionate and person-centred.
This leads to what I see as the biggest issue in the personal service industries – the idea of implied consent. An assumption that the moment you walk over the threshold of the door and sit in the chair, you consent to all aspects of the service.
Removing the implied consent and asking people if we can touch their hair and letting them know what is going to happen throughout their service helps people feel like they have agency over their entire experience.
Giving people the opportunity to advocate for their needs, and agency and autonomy over their experience – even before they walk through the door – is empowering for everyone. And isn't that what we all want? To be seen and heard for the individuals that we are?
To follow Chloe on her journey, visit Studio Misfits on Facebook or Instagram.